The international news organizations are now reporting about events in Baku today. While there is no clear report yet it is clear that a very tragic event has happened. There has been a shooting at the Oil Academy and several university students are dead and others wounded. There are various reports about how many gunmen there might have been and what has happened to him (or them). You ca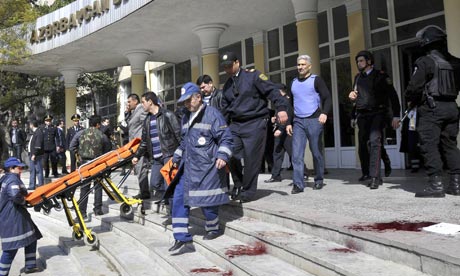 n get more information at this link http://www.guardian.co.uk/world/2009/apr/30/azerbaijan-gunman-kills-college
The Oil Academy is right around the corner from my office. It is a building that I pass at least twice a day going to and from the subway. I came to the office for a men's bible study at 7:00 AM this morning and was unaware of what was happening so close by. I did hear a lot of police sirens but didn't think anything about it. Someone from the church called to see if I was okay since he had heard the news and knew it was close to the office. After that, several others called to see if everything was okay. I did go out at lunch and the police have many of the streets still blocked off. There seems to be a lot of confusion and many people are standing around in groups talking. It seems that some of the people have used their cell phones to video some of the events.
I have spoken to different people from the church but have not heard of this affecting anyone from the church. Please pray for the families of those who have died and pray for peace in the city. Pray that believers have an opportunity to minister and offer hope during this sadness. It seems to be the kind of attack that could happen anywhere but the people here are very unsettled by these events.  Thanks for your prayers.
David
Leave a Reply