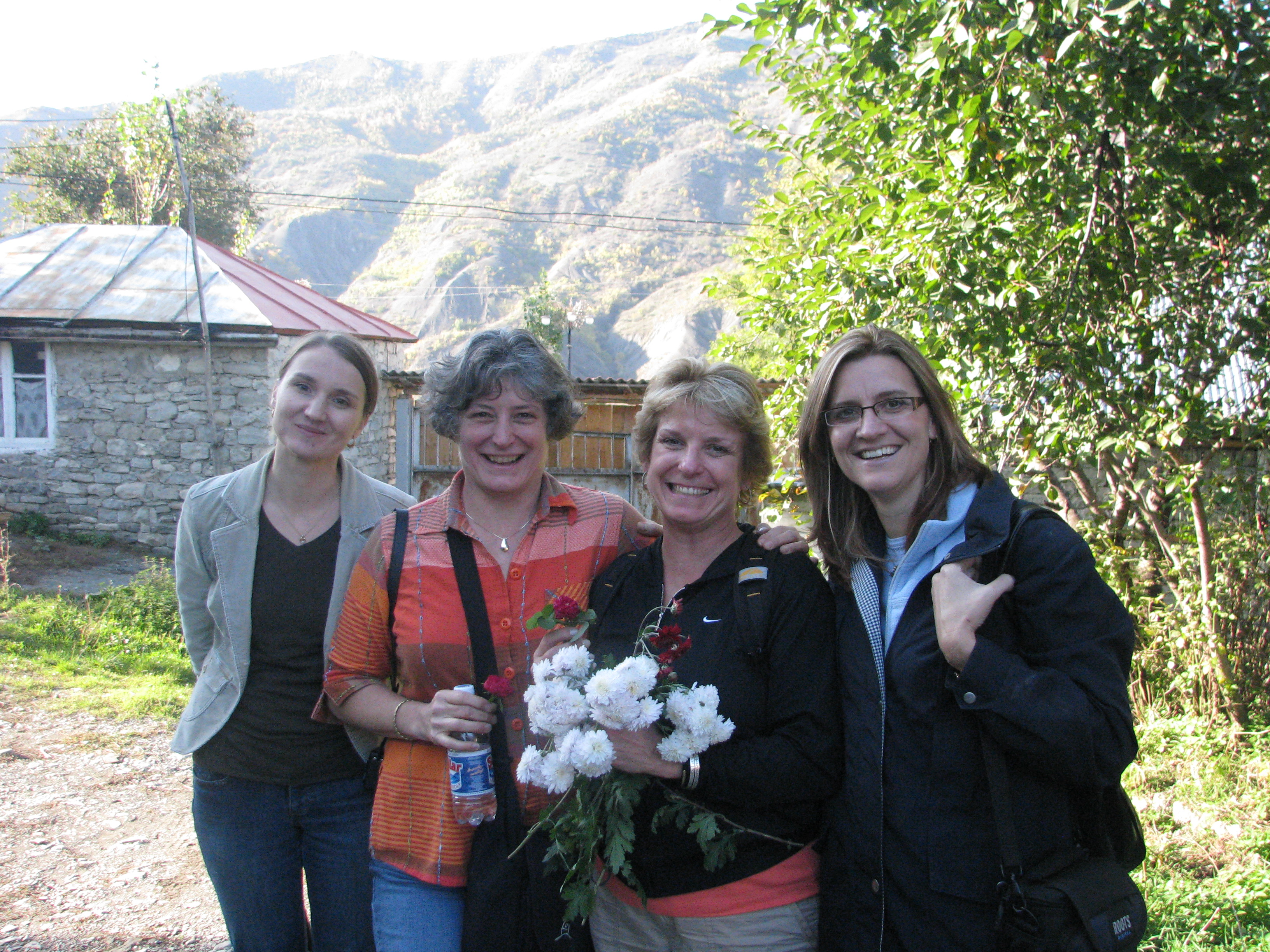 On Monday, I (Rhonda) took the day to go to Lehic with some friends.  Julie, had her sister, Sarah, visiting from Texas and wanted to show her a little of the country-side of Azerbaijan.  We left Baku at 7:30 am and after making a stop at a Mosque along the way and a quick lunch break, we arrived at this quaint little mountainous village called Lehic (pronounced Laheej).
We started out by going to a local family's home for tea.  Julie knew this family from previous visits so she let them know we would be arriving.  They were very gracious and kind.  They speak Azerbaijani, so between our driver and Natalie, everything was translated for us. 
Shopping is the highlight of Lehic.  There are rustic shops along a narrow street that make up this village where the tradesmen are busy making copper pots and carving intricate designs on them.  We all picked up some nice items to bring home–things like copper bowls, trays, pots and even some jewlery.  Julie proves to be the star bargainer and always gets a good deal on her purchases.
After visiting the shops we were brought to a carpet factory where there were about a half-dozen ladies busy making beautiful Azerbaijani carpets.  It is amazing the time and effort that go into these carpets.  We were told that most carpet makers have left the village for the big city of Baku where they can earn more money.
After having a bite of a picnic supper, we were on the road again for our journey back to Baku.  It was about a four-five hour trek back.  We arrived home safe and sound around 10:30 pm.
What a great day it was just to spend some quality time with friends and to see some beautiful scenery.  The trees were changing colour so once in the mountains, we were able to see God's amazing handi-work.  I thank God for these precious friendships and for the opportunities that living in Azerbaijan provides.  
2 Responses to "Trip to the Mountainous Region of Lehic"
on 22 Oct 2008 at 4:00 pm

1

Gord Sullivan

Hey Rhonda

Half way around the globe and you still find places to shop………:o) Keep this page alive you two as I love to see what you are up to and how things are going.

Gord

on 24 Oct 2008 at 12:26 am

2

Erika

Hi Rhonda

Sounds like you and your friends had a lovely day in Lehic. Wish I could have been there (I love copper and shopping . I also enjoy reading about your adventures.
Love
MOM
Leave a Reply