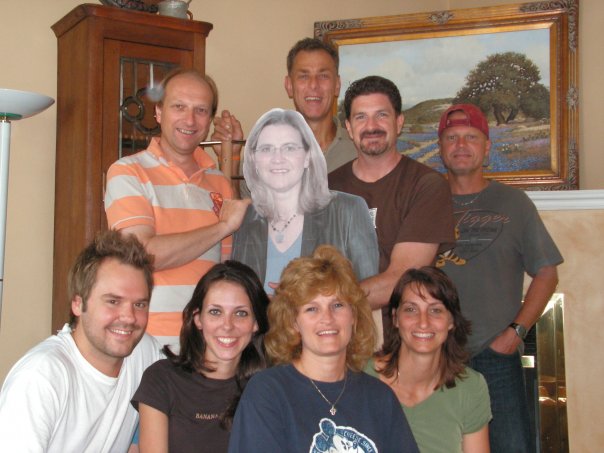 July 6th was our 17th wedding anniversay. Alas, Rhonda and I were half a world apart. We did speak together on the phone and I sent her flowers but you know it's not the same thing. So, some of our good friends here invited me over for dessert and arranged to have Rhonda's likeness present. It was very funny and we had a great evening, including a Phase Ten tournament. Thanks guys, it's good to have friends like you around.  However, I would really prefer having Rhonda here. Just one week left before we are reunited - I think we can make it.
David
2 Responses to "17 Years"
on 08 Jul 2008 at 1:40 pm

1

Len

Hi David,

Wow, the likeness is pretty close to the real thing!
We saw her and 3/4 of your kids on Sunday at church. Everyone looks the sames, just a little bigger-Rhonda excluded:)
Trust you have a safe trip here

We've just entered the blogging world and were excited to find your blog. We think often of BIF and miss it GREATLY! Keep up the great work, and we'll keep checking in to see updates on you and your family.
Leave a Reply