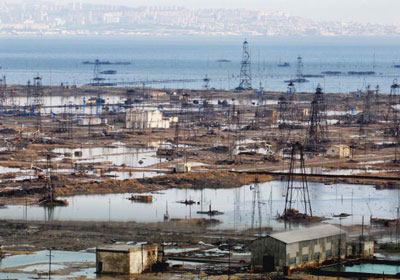 There are some contests that you would rather not win. I uncovered this information in the Mercer Human Resources Consulting report last fall. Now Forbes Magazine has found it and published the results. Baku has been labelled the dirtiest city on earth. Some distinction. The classification is determined by things like medicial services, pollution, waste transportation, sewage and the quality of drinking water. The article notes that as a hub for oil Baku "suffers from life-threatening levels of air pollution emitted from oil drilling and shipping." 
This no doubt will be very hurtful to Azeris. They are very proud of their country and their capital city. Reports like this can be very upsetting. You can imagine how you would feel if it was your hometown. Baku has a lovely setting on the shore of the Caspian Sea. The Old City is a designated UNESCO world heritage site. It isn't like there aren't nice places to visit.
But perhaps such harsh news will spur the city into action. Years of Soviet neglect, the fight for independence in the early 1990s, along with a war against a neighbouring country all took their toll. There is a lot of work to do. The good news is that Azerbaijan comes first on another list. At 31% growth in GDP it was the fastest growing economy in the world in 2007. Already all around the city there is a beautification program underway. Parks are being upgraded and buildings are being refurbished and finished. According to this website the city can expect a dramatic change in its skyline in the near future. Whether it ever comes to pass or not is a good question.
With the poverty of the past and the growth from oil revenues the city is now one of great extremes and great diversity. The streets are over-crowded with new Mercedes and luxury vehicles. Inflation is running high at well over 20%. Unfortunately, for the average citizen not much has changed. Wages have remained low but now it is more expensive to live. Water shortages are chronic and electricity in short supply. The entire system is overloaded.
In the midst of all this one must retain a hopeful outlook. There are many improvements. The people are working hard to ensure an open and prosperous future. It's exciting to be here and watch these kinds of changes affecting a whole new generation. We, along with the Azeris, are hopeful for a brighter future.
David
Leave a Reply